| August 8th, 2008
Victoria Peak (Tai Ping Shan) – A must see sight for tourists in Hong Kong.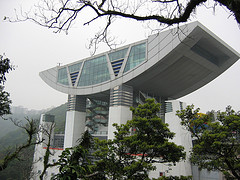 You know those really popular tourist attractions that every city has that are so popular you almost don't want to visit them for fear of looking touristy, but you still really want to see them? Well the Victoria Peak is that place in Hong Kong. Granted there are plenty of popular tourist attractions in Hong Kong, the Victoria Peak is one that can't be missed by tourists.

What is the Peak?
The Peak refers to the building that sits in a gap on Victoria Peak.
Over the years Victoria Peak has transformed and grown with the times. At present time the Victoria Peak is home to breathtaking views, high end shopping, fine dining, and interactive entertainment. Most people come to the Victoria Peak for the amazing views that can be seen from the terrece at the top of the building and for the tram ride.
What To Do
One of the best ways to get to the top or bottom of the peak is to take the tram. The tram is train style shuttle that runs from the base of the mountain to the top of the peak.
The Peak Tram runs every day, including Sundays and public holidays, between 7:00 am and 12:00 midnight. The tram departs every 10 to 15 minutes
If riding the tram up to the peak, try to grab a seat on the right hand side. This side offers the best views as you climb to the peak. Be ready to with 15 – 30 minutes to get on the tram. Lines build up fast. As such, on your way back down you may want to take a taxi or bus instead of waiting for the tram again.
More Information
For more information about the tram and Victioria peak, visit their website.