| September 22nd, 2008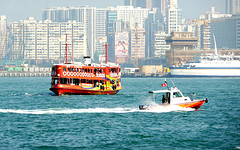 Acclaimed as an important piece of the commuting system between Hong Kong Island and Kowloon, the Star Ferry's ferry crossings at Victoria Harbour are an essential part of the journey for visitors. This is also considered the world's best value for money sightseeing trip and was named by the National Geographic Traveler as one of fifty places of a lifetime.

This ferry originated in 1880 when Dorabjee Naorojee Mithaiwala decided to start a new living. He began the ferry service with his personal vessel, the Morning Star. Originally known as the Kowloon Ferry Company, by 1890, they had four single-deck Star Ferries. Eventually, the ferries had the second deck attached.
General Prices
Hung Hom / Central Service and Hung Hom / Wanchai Service
The price for adults is $6.00 while children between 3 and 12 years old and passengers with disabilities only pay $3.00. If a passenger is 65 years of age or older, the can ride for free if they show a senior citizen card. If they do not have a senior citizen card, they can show an HKID instead.
If this is a regular part of your voyage, monthly passes can be bought for $300.00. If you would like to ride across with your bicycle, it will cost an additional $12.00 (without loading).
Basic Times
The ferry runs every day of the week from several locations. The Hung Hom/Wanchai service generally starts at 6:56 am, runs approximately every 20 minutes and ends at 7:10 pm. The Wanchai/Tsim Sha Tsui service runs from 7:20 am, varying from 8 to 20 min intervals, and ends at 10:50 pm. The Central/Tsim Sha Tsui service starts at 6:30 am and ends at 11:30 pm. This one runs every 6 to 12 minutes.
What to Expect
When riding on one of the ferries, it is best to expect a lot of tourists, business people and general populace in each ride. Be sure to check out the sites and listen to the announcers telling you about local landmarks.