| October 1st, 2008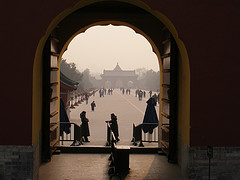 One of the most iconic sights in Beijing is the Temple of Heaven, (Tiantan). Built during the Ming Dynasty, the temple complex is a popular tourist attraction. The Hall of Prayer for Good Harvests is one of the most photographed buildings in the world, appearing on products ranging from tea to t-shirts. No trip to Beijing would be complete without a visit to the Temple of Heaven.

How to Get There
Reaching the temple is not difficult, it is served by several city bus routes (among them: 2, 6, 17, 34, 35, 110, 120, 122, 610, 707, 721, & 739), and is a short taxi ride from the city center. Organized city tours often include the Temple of Heaven as well.
What to Expect
The temple area is located in an oasis of nature in bustling Beijing, a beautiful park filled with six hundred year old cypress trees, as well as juniper and scholar trees. This urban forest is nearly as impressive as the temple itself. Once you enter the temple grounds, expect to pay an entrance fee of between 30 and 35 Yuan depending upon the season. Inside the temple gates there is much to see.
Most visitors go immediately to the Hall of Prayer for Good Harvests one of the most beautiful buildings in the world. The hall is built on a foundation of marble, and its entire 38-meter, three level height was constructed without a single nail.
Another important site at the Temple of Heaven is the Circular Altar, where the emperor would go each year on the winter solstice to offer sacrifices to heaven and pray for a bountiful harvest in the year to come. This ritual was practiced by emperors for over 600 years, up through the beginning of the 20th century.
Hours of Operation
An average visitor to the Temple of Heaven could expect to spend between one and a half and two hours touring the area. It can get very crowded during the popular tourist months, so it is a good idea to go early in the day to avoid the tourist crowds and heat. The park opens at 6:00 A.M. and closes at 8:00 P.M. Early visitors might be lucky enough to see residents doing their morning Tai Chi in the park that surrounds the temple.