| October 2nd, 2008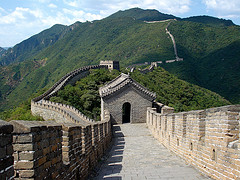 The Mutianyu Great Wall, located about 45 miles from Beijing in Huairou County, connects Gubeikou Great Wall in the east and Juyongguan Pass in the west. First built in the Northern Qi Dynasty (550-557), it was then rebuilt during the Ming Dynasty (1368-1644) for the purpose of strengthening its defensive potential. Built mostly of granite, the Mutianyu wall winds 1.4 miles through towering mountains and high ridges and measures 23-26 feet high and four to five yards wide. It boasts 22 watch towers which are distributed at close intervals. Both of the wall's inner and outer sides have parapets to defend against enemies coming from the two sides, a feature very rare on other parts of the Great Wall.

Other Unique Features
The Mutianyu Great Wall is famous for the breath-taking beautiful scenery
It is surrounded by ancient pine trees, some over 300 years old
You can find natural spring water at the foot of the wall
One section of the wall rises with a gradient of nearly 90 degrees on bare rock
What to Expect
This section of the wall is steeper and more challenging to ascend than most tourist sections of the wall. It can be scaled either by a cable car ride or by climbing the more than 1,400 steps to the top. To make your way back down, check out the wheeled toboggan ride down from the wall on a winding metal track.
Recommended time for a visit is two and a half hours
How to Get There
1. Take the No. 6 Tourist Bus at the Xuanwumen Gate or the Dong Si Shi Tiao stop on public holidays.
2. Take No.916 or No.936 bus at Dongzhimen Gate, get off at Huairou Longshan Hotel (Huairou International Conference Center) and take a mini-bus to the wall.
3. During National Holidays, you can take a train at Xizhimen Gate Train Station and get off at Beizhai Train Station, and take a Tourist Mini-Bus to the wall.
Average Costs
Admission Fee: CNY 40
Cable Fee (Optional) Single Trip: CNY 35
Round Trip: CNY 50
Slideway Fee (Optional) CNY 55
Hours of Operation
07:30 to 17:20
After your visit to Mutianyu Great Wall, visit its namesake village for a breathtaking view of rural China.