| October 24th, 2008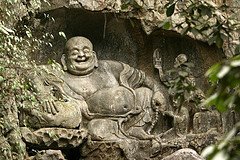 Ling yin Temple is a Zen Buddhist temple. It was founded around 328 A.D. by an Indian monk known as Huili. This monk named the place Ling yin because the land was so beautiful to him, he thought that it must be a place where immortals lived. It's name is commonly translated into English being, Temple Of The Soul's Retreat, or Temple of Inspired Seclusion.

The temple, lying just north west of Hangzhou in Zhejiang, is one of the biggest and wealthiest monasteries in all of China. It is also known to be the oldest temple in the city of Hangzhou.
What To Expect
When you visit Ling yin Temple you can expect to see beautiful landscape, gorgeous buildings and exquisite statues. As one of the largest temples in China there is no shortage of great historical and religious displays for you to see, least of which is the Hall of Heavenly Kings. This is the formal entrance hall of the temple. The ceiling in this hall is decorated with superb phoenixes and dragons. The main statue in The Hall of heavenly Kings is the Maitreya Buddha, more commonly known to Americans as the Laughing Buddha.
Another great part of Ling yin is the Grand Hall of the Great Sage. This hall houses the largest wooden statue of Buddha in China. Here you can also see a multitude of carved Buddhist personalities. Further up the hill from these halls are the Hall of the Medicine Buddha, the Sutra Library, and the Huayan Hall. The library houses no major statues and isn't currently open for worship, though the others are open and definitely worth seeing.
There is also the Hall of Five Hundred Ar hats, which is a must see. This is currently the tallest solid bronze work in the whole world.
How to Get There
You can take tourism buses 1, 2, and 4 from the city to get to Ling yin Temple easily.
What It Costs
The average cost of visiting Ling yin temple is about 30 CNY. It's hours of operation are from five in the mourning until six in the evening.