| November 21st, 2008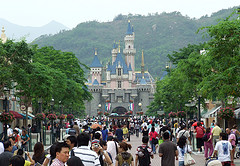 Ideally located on the largest of Hong Kong's 236 islands, Lantau Island, Hong Kong Disneyland in China opened on September 12, 2005, shortly after the finish of Sleeping Beauty's castle. The park has four theme lands, Main Street U.S.A., Fantasyland, Adventureland and Tomorrowland. Hong Kong Disneyland also has two Disney-style hotels, Disneyland Hotel and Disney Hollywood Hotel. The park has numerous attractions including rides, shops, restaurants and shows.

What To Expect
Altogether, Hong Kong Disneyland China's four parks have more than 25 attractions. There is also street entertainment, dining, shops and an area to meet the Disney characters in each park. The park is small, and it's best to not go in expecting something like Disneyland Orlando. Because of the park's size, it's likely it will take only a day or less to go through the whole thing.
Main Street U.S.A. has six attractions including the Animation Academy, High School Musical: LIVE! and City Hall. In Tomorrowland, visitors will find the Orbitron and Space Mountain, as well as four other attractions. Fantasyland has the most attractions, 12 of them, which include Mickey's PhilharMagic, the Sleeping Beauty Castle, Snow White's Grotto and Fantasy Gardens. Adventureland has only four attractions, including Raft's and Tarzan's Treehouse and a Jungle River Cruise.
Hours of Operation
Hong Kong Disneyland-China's regular hours are 10am to 7 pm, though it's prudent to check before you go.
Entrance Fees
On a regular day, children's tickets cost 210HKD, or $27. Adult tickets cost 295HKD or $38. The price is more on special days and peak days, which fall on holidays and weekends.
How to Get There
Lantau Island is very accessible, so getting to Hong Kong Disneyland is easy. Available pubic transportation includes buses and taxis, and it is also accessible by car. The transportation costs vary depending on where you're leaving from.
If you're driving, the parking fees are 120 Hong Kong Dollars, or about $15.50 American. The parking facilities are open for two hours before and after the park closes, so it's easy and convenient to get in and out.