| August 27th, 2008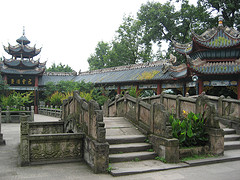 With one of the largest land spaces and populations of any other country, it's no wonder that China has some of the most incredible attractions for tourists to experience throughout its landscape. Here are a few tourist attractions that you have to check out the next time you visit China.

The Great Wall
This incredible stone structure literally runs across miles and miles of beautiful landscape. The most common place to visit this attraction is near Badaling. This section is only open from 6:30am-9:30pm Sunday-Saturday.
Price – Free
Shanghai Museum Renmin Square
With four floors of over 120,000 exhibits, even the building itself is an exhibit of incredible architecture. This museum features ancient calligraphy, bronze work, Jade, and furniture and clearly labels each exhibit in English as well as Chinese.
Price – Y20
Jade Buddha Temple
A monastery dating back to 1882 this is a perfect place to sample Chinese architecture and view the two Buddhas completely carved out of white Jade. The temple also includes a vegetarian restaurant and sweeping grounds to explore.
Price – Y10
Shaanxi History Museum
Home of more than 100,000 relics including Zhou and Shang dynasty bronze vessels. You can also see the world famous terracotta warriors up close in this incredible museum.
Price – Y50
The Bell and Drum Towers in Xi'an
Made as both a way to tell time for the locals as well as warn its citizens of war and danger, these incredible architectural monuments are beautiful as well as feature daily drum demonstrations.
Price – Y30 for entry to both towers

Tomb of the Nanyue King
This tomb features the final resting place of Zhao Mo. Burried with his own set of slaves and concubines this tomb is a great find. The tomb also displays over 500 artifacts from this dynasty era. Price – Y10 plus and additional ¥5 to enter the tomb.
Fengdu Ghost Temple

One of the grizzliest examples of Chinese history, this temple is located to the King of the Dead. With statues that portray children eating goblins, gluttons being boiled alive, and other gruesome topics, this site is sure to impress those that are enamored with the strange and unusual.
Price – Y80