| May 7th, 2008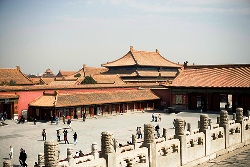 There are more than 100 museums and galleries in Beijing. Among the well known we can mention: the Palace Museum, The National Museum of China, Beijing Art Museum, the Military Museum and the Ancient Coin Museum.
The National Museum of China
The National Museum of China stretches more than 300 m / 984 ft to the north and to the south along the east side of the Tiananmen Square. The predecessors of the museum are the Museum of Chinese History and the Museum of Chinese Revolution, which shared the same building.
The Museum of Chinese History
The Museum of Chinese History is actually Beijing History Museum and was built in 1912 and opened to the public in 1926. It displays three periods of China's history: the Primitive Society (500,000BC to 4,000BC), Slavery Society (2,100BC to 475BC) and Feudal Society (221BC to 1911).
The Palace Museum
The Palace Museum (see photo) was established on the basis of the Forbidden City, which used to be the imperial palace of the Ming and Qing Dynasties. The palace covers an area of 720,000 square km. The Palace Museum was established in 1925 and it represents the China's largest and most intact ancient building complex. It has the country's largest collection of art works, including paintings, potteries, toys, documents and many more.
It is China's largest museum and in 1961 it was included n the List of Key Historical Monuments under State Protection, while in 1987 it was put on the World Heritage List of UNESCO.
The National Art Museum of China
The National Art Museum of China ((Wu Si Street) is an art museum displays, collects and researches the work of Chinese artists in modern times. There are 13 exhibition halls filled with more than 60,000 fine art works like Chinese paintings, prints, sculptures, iconography, shadow play works, paper-cuts, embroideries and many more.
Beijing Ancient Coin Museum
Built over the reconstructed Zhenwu Temple at the Wucheng of Deshengmen, the Beijing Ancient Coin Museum exhibits Chinese ancient coins from different dynasties. It also features temporary exhibitions.
Beijing Art Museum
Beijing Art Museum is located within the Temple of Longevity, which was built in 1577 under the reign of Wanli Emperor. Beijing Art Museum was founded in 1985. It houses collections and exhibitions and its aim is to preserve, to study and develop the Chinese cultural heritage. Among the collections you can see the valuable Chinese paintings and calligraphies of Ming and Qing Dynasties, ancient coins of China and the modern Chinese and Japanese arts, crafts and paintings.