| December 4th, 2008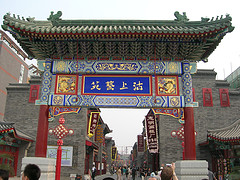 Aside from the Great Wall of China, the plethora of historic temples in China are some of the most popular tourist attractions in the country. If you plan on visiting some of these amazing sites when you visit china, you might as well start with some of the most popular ones. After all, the popular temples got that way for a reason. Many of the popular temples listed below are nothing short of amazing, so be sure to bring a camera. Below you will find a list of our favorite temples and historic attractions in China.

Popular Temples and Historic Sites to Visit in China
Chongsheng Three Pagodas
While the Three Pagodas don't offer as much as some of the other temples on this list, they still shouldn't be missed. The entrance fee to see the pagodas is extremely cheap, but to get the most out of your visit you should look into taking a guided tour of the area for an additional cost. This is a great spot to come and relax for a while. You will see many tourists enjoying a pinic in the nearby park.
Lingyin Temple
In short, the temples name translates into English as Temple Of The Soul's Retreat, or Temple of Inspired Seclusion. The founder of the temple, Ling Yin though the area was so beautiful that it must be a place where immortals lived. If that's not an endorsement to visit the site, I don't know what is. As one of the largest temples in China there is no shortage of great historical and religious displays for you to see.
Temple of Heaven
The Temple of Heaven is easily one of the most recognizable sites in Beijing. in fact, Hall of Prayer for Good Harvests is one of the most photographed buildings in the world. Needles to say that if you are a photographer, you will definitely enjoy visiting this attraction. This temple is so massive and offers so much to see and do that you should plan to spend the better part of the day here. If you are a photographer going to load up on shots, you'll want to plan to be here all day.
Wong Tai Sin Temple
Located in Hong Kong, the Wong Tai Sin Temple is dedicated to the Taoist deity, Wong Tai Sin. It is free to visit this popular tourist attraction, but leaving a donation is recommended. Aside from the main altar, there is also several other areas of interest to visit. These areas include the archive hall, the three saints hall, and the earth wall.