| June 21st, 2012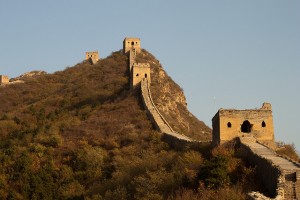 Constructed primarily of stone, brick, metal, and dirt, the Great Wall of China was built during the Ming Dynasty era to protect China from enemy invasions.  From the Fourteenth Century to the Sixteenth Century, the Great Wall was key in protecting the country from military attacks from Mongolian raids.  Today, this historical wall is 5,500 miles long, with additional fort-like defenses added to it that consists of natural barricades from the rugged terrain.  Due to its history, construction, and beauty, the Great Wall of China is one of the most-visited historical sites in the world.
Finding the best hotels to stay in while visiting this historical wall can be a challenge due to the heavy competition amongst hotels, lodges, and inns.  There are five hotels that stand out from the others and offer beautiful and luxurious accommodations, along with posh amenities, near the Great Wall of China.  Visiting the Wall and staying in any of these hotels is sure to provide tourists and travelers with a refreshing and relaxing atmosphere after a long day of touring the wall and taking in the wild and breathtaking scenery surrounding this area.
Holiday specials and tour packages can be obtained when a person or family books a trip to visit the Great Wall.  Asking about one of the five renowned hotels listed below when making reservations for a tour package to this area will help people to find the best lodging possible for their trip.
The Commune by the Great Wall Kempinski
This hotel is located on the northern section of Beijing and offers modern amenities such as tennis courts, a business center, a bar, restaurant, non-smoking rooms, and laundry services.  In addition to these amenities, the hotel is located conveniently near a golf course and also has a sauna available for guests.
The Commune by the Great Wall Beijing
This hotel is also close to the Great Wall and it provides top-notch scenery, patio dining, fine wine selections, and gourmet food.  Breakfast room service, cool air conditioning, and a spa and health center appeal to tourists.
The First Great Wall Hotel
This hotel can also be included for holiday specials packages.  It offers three hundred and eighty rooms, beautiful interior design, a breakfast buffet, a swimming pool, and affordable accommodations.
Yanqi Holiday Hotel
A family-friendly hotel, the Yanqi Holiday Hotel is a five-star luxury hotel located in a beautiful resort.  Rooms are large and spacious with inviting furniture.  Experienced hotel workers provide superb service and work diligently to ensure customer satisfaction.
Commune by the Great Wall
Nestled in the grand Badaling Mountains, this hotel offers exceptional views, large windows for guests to enjoy the beautiful surroundings, and four restaurants to select from.  A fitness center and spa are included in the amenities and full service is provided in each of these areas of the hotel.  Bamboo patios, velvet drapes, large, comfortable beds, and exceptional dining services make this a very desirable hotel amongst people who tour the Great Wall of China.
Photo by Matt512