| November 5th, 2008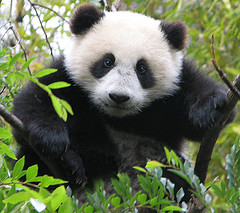 Chengdu Research Base of Giant Panda Breeding located in beautiful Chengdu, Sichuan in the People's Republic of China is a non-profit organization dedicated to the research and breeding of rare animals, especially the Giant Panda. Covering 106 acres, the research base started with six pandas and now boasts 62 pandas. Considered one of the foremost training and research site of the Giant Panda, the research base sends trained staff to other places to help with the care and breeding of Giant Pandas around the world.

Researchers also work to protect pandas in the wild, as well as other rare animals such as the Red Panda and Golden Monkey. The research base boost a natural and man made environment that allows the animals to live in a natural setting while affording the visitor a peaceful oasis in the midst of a bustling city.
The Giant Panda Museum attracts many international visitors as an educational research attraction. Chengdu Research Base is a great place to visit for learning more about and just enjoying the rare Giant Pandas.
How to Get There
By Bus:
From Chengdu Xinnanmen Bus Station, take the special 902 bus line which goes directly to the research base. From Chengdu Qinglongchang Bus Station, take either bus route 107 or 532 to reach the base.
By Taxi or Driving:
No.26, Panda Road, Northern Suburb, Chengdu Sichuan, P.R China 610081
What to Expect
With 106 acres of beautiful habitat, there are many things to see and do. A walking tour of the research base may take approximately 3 hours. However, for ¥10.00 for adults and children over 1.2m (4ft), visitors may take a bus tour which lasts approximately an hour and a half. Tour guides are available for a fee.
Hours of Operation
Chengdu Research Base is open from 8 a.m. to 6 p.m. everyday throughout the course of the year.