| September 3rd, 2008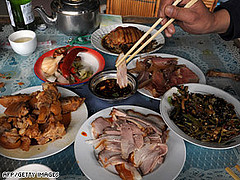 Dining throughout China is an art form of sorts. One can find everything from the traditional to the esoteric and from the gaudy to the extreme. Some of the best foods can be found in the smallest little building in back corners and down alleys. These restaurants however, will not be found down any side street. These are some of the more popular places to eat in China.

Din Tai Fung
This is the place to go for dumplings and is in fact Asia's most famous restaurant for dumplings with locations worldwide. The New York Times once dubbed it as one the top 10 restaurants in the world. Famous the for their wide variety of fillings with such names as the Hairy Crab, or pork filled delights or veggies specialities, each filling is combined with a warm soup that make for a culinary delight with each mouth full. £9. $18
Three Guizhou Men
The story behind Three Guizhou Men and their restaurant is a wonder in its self. They had originally come to the area to sell their paintings and when this did not work out they needed a 'plan B'. The restaurant began as the venture of the three starving artists as way to pay for their art supplies. Guizhou is the province from which they were from and they took that as their name.
The trio never did flourish much in the artistic field but their culinary delights have spread and they now have five restaurants. A favorite with foreign travelers and locals alike. This is perhaps the hippest place in the city. Decadent and expensive, this is where the "beautiful people" like to go. They are known far and wide for their spicy lamb and Beef on Fire. £14. $28
Jiumen Xiaochi
This is a stop that can not be missed when on the quest for traditional Chinese cuisine. There is more to Beijing than just the duck for which they are famous. This is actually a complex of stalls where you buy a card and wander about sampling snacks for all the various stalls.
This is a very authentic and traditional fare, with selections of lamb's head and sheep entrails. Very popular among Chinese and other tourist are like and is guaranteed to be crowded at most any time. Prices are moderate to high and vary by establishment